Heavy rope exercises can be used to enhance physical conditioning. Benefits to using the rope include muscular endurance, strength, and power. All of which have functional application in both everyday life and athletic performance.
Thinking about buying a heavy rope?
Read this first
For this exercise, you will need a heavy training rope. We suggest a 50' rope because the feedback (wave effect) is much better than that of a 30' rope. The thickness of the rope can either be 1.5" or 2", depending on how much of a challenge you desire. In the video, a 50' x 2" heavy rope is being used because of the strength and size of the athlete.
Before starting this exercise, be sure to anchor the rope to a solid/grounded fixture. Examples include squat racks, "loaded" weight trees, etc.
Begin this exercise with the heavy rope in both hands. Set your feet just past shoulder width apart. Using maximal power, hoist the rope above the top of your head. Each hand should move in unison so as to create one single wave with the rope.
Due to the amount of force production required to get the rope over the head, it is perfectly normal to end up on your toes or even leave the ground completely. This is okay and is similar to the transitional "scoop" phase used in Olympic weightlifting (power cleans).
Once the rope is elevated into the air, rapidly slam it downward to create a giant wave. Repeat the slamming motion for approximately 30 seconds.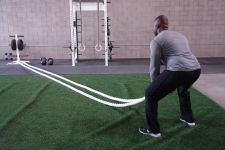 Feet slightly wider than shoulder width apart. Grasp rope with both hands.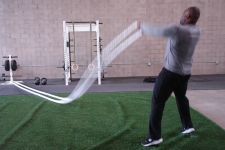 Use explosive power to hoist rope over head. It is normal to end up on your toes, or even leave the ground due to force production.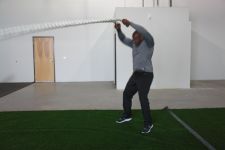 Rapidly slam rope downward to create a wave. Perform slams for 20 to 30 seconds.